Dental Implants in Lincoln, NE
Dental implants are becoming an increasingly popular method for replacing missing teeth. In this procedure, titanium implants are surgically placed in your jawbone, and act as an anchor for naturally looking porcelain crowns, porcelain bridges and or dentures. Dental implants are not only used for individual tooth replacement, but can also be used when replacing multiple teeth with implant bridges and overdentures.


Advantages of dental implants:
Implants are extremely natural looking
After the implant has fused into the bone in your jaw, the implant is very stable and comfortable compared to traditional dentures.
A dental implant can last a lifetime. Roughly 2% of all implants fail based on different factors.
Root form implant: Root form implants are the most common type of implant where the implant is shaped like the root of a tooth.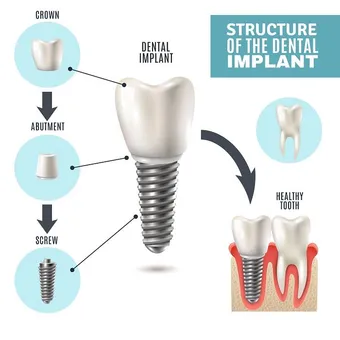 How many teeth can be replaced with dental implants?
You can replace a single tooth, multiple teeth, or all of your teeth with dental implants
(View Examples). You don't even need one implant for every missing tooth. As few as two Implants can support a removable lower denture, while as few as four implants can provide a full, permanent set of top or bottom teeth.


Can anyone receive dental implants?
Dr. Baum will be happy to discuss whether you are a good candidate; however, there are some limitations. You must be in good health and have the proper bone structure and healthy gums for the implant to stay in place. People who are unable to wear dentures may also be good candidates. If you suffer from chronic problems, such as clenching or bruxism, or systemic diseases, such as diabetes, the success rate for implants decreases dramatically. Additionally, people who smoke or drink alcohol may not be good candidates.


What can I expect during this procedure?
First, Dr. Baum performs surgery to anchor the "artificial root" into or on your jaw bone. The procedure is done in our office with local anesthesia. The gum is then secured over the implant, which will remain covered until it fuses with the bone. This usually takes about 3-4 months. The dentist then uncovers the implant and attaches an extension, or post, to the implant. With some implants, the implant and post are a single unit placed in the mouth during the initial surgery. Finally, the dentist makes an artificial tooth, or crown, that is attached to the implant post. It will be as if you never lost your tooth.
Do you need Dental Implants or would like to learn more? Then call (402) 486-4050, to schedule an
appointment with us! Let Baum Family Dentistry be your implant dentist in Lincoln, NE!